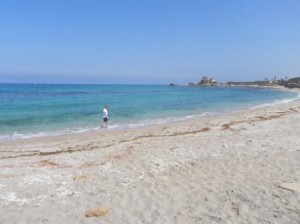 It's been an incredible day!
In fact, we traveled more miles today in Israel than I ever traveled in one day.   
We began in Jerusalem and drove to Caesarea and Megiddo and Nazareth – and then spent time in Capernaum which is on the shore of the "Sea of Galilee", all before 2:00 p.m.! After that we had a wonderful time at a baptismal sight in the Jordan River and then drove down the Jordan Valley to Jericho and then up to Jerusalem.
The first site that we visited was Caesarea, the capital of the Roman province of Judea. This meant that the Roman authority positioned itself in Caesarea. In fact ruins were found identifying that Pontius Pilate was governor of Judea and resided in Caesarea. It's a port city with the presence of the Mediterranean Sea awakening your senses!
The city was named by "Herod the Great" after Caesar Augustus.
Today, it's one of my favorite spots in Israel. Not only is it extraordinarily beautiful(see above Lily walking on beach  between the Governor's palace at Caesarea and in the back-ground the port of Caesarea) but what first comes to mind is that the Apostle Peter visited a gentile man named Cornelius who made a commitment to follow Jesus!
The story is recorded in Acts 10 and what a story it is!
In short, it was a major turning point in Cornelius' life as he came to faith in Christ, but it was also a turning point in Peter's life as well. Jew's just did not eat with non-Jews, not even would they enter a Gentile's home. But the Lord was showing Peter otherwise and it proved to be a major turning point in church history and in Peter's life some 10 years after the resurrection.
I like Kent Hughes' remarks on this. He wrote, "Do we see those around us as potential heirs of grace? Do we view those who are different from us and who do things we do not approve as candidates for the kingdom? Our attitude makes all the difference. If we are anti-Semitic, we will never lead a Jew to Christ. If we have written off a relative, he or she may be written off for eternity. If we are elitists, most of the rest of the world will never experience grace through us. I like C.S. Lewis' statement: "Next to the blessed sacrament, your neighbor is the holiest object presented to your senses!"
God bless all of you! We are thinking and praying for you 🙂
We send our love from Jerusalem!