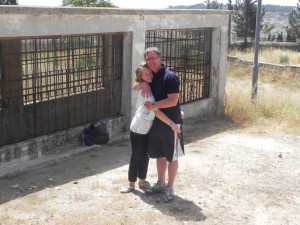 It has been "off-the-charts" today in Jerusalem!
For years I've hoped to visit the location where the "Messianic Seal" was etched in the wall of a first century meeting place on Mt. Zion.
Today, we found it! I couldn't believe it. This treasure location is practically abandoned!
For those of you who are unfamiliar with the symbol I am referring to, it is made up of three parts: a Menorah, Star Of David and a Fish.
It is the earliest symbol associated with the "church" in Jerusalem. Some argue that over a period of time that the Menorah was removed, then the Star of David, leaving only the Fish, which we're all more familiar with in association with Christianity, but reflecting erosion of consciousness of the roots of the faith.
Aside from the garden tomb, Calvary and the Kidron Valley — this site is my favorite!
Tears welled up pondering the possibility that this was a site the early church met, and that the Apostles perhaps even played a role in the shape of the "Messianic Seal" itself  and that one of them maybe even etched it on the wall!?
Well, I hope you enjoy the picture and a few of these comments.
I want to thank all of you who are reading our updates and leaving comments. It's a total blessing!
We send our love from Jerusalem and we are praying for you!