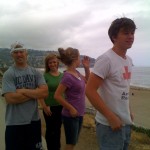 Hi everyone!
I'm back from vacation with the family and I can't wait to see everyone Sunday morning!!
I'm savoring all the reports that I have received on how the Lord has blessed the church in June – and, I can't tell you how much that blesses me! I've heard the services were great and VBS was fantastic etc. And, I thank all of you who prayed for us while we spent family time together and rested. We had a great family vacation and rest.
Okay, at risk of boring you to death, I have added some family pictures of our vacation. I actually took some four hundred pictures on my IPhone alone. These are five and out some four hundred that I took while with the family this June.
From top left:
#1 Our children and in the back-ground is Palos Verdes, Ca. where I grew up!
#2 (Below) Walking a street in San Clemente, Ca. with TWO of my THREE girls. I'm a blessed father!!
#3 This photo was taken after a wonderful dinner with our dear friends Greg and Cathe Laurie!
#4 Got to play some golf with my Dad (Pete is now taller than me J) BTW, Greg JR. and my Dad have a hard time being reminded that I actually beat them in golf 🙂
#5 This picture was taken at Disneyland while watching the fireworks. I waited to take this photo till a burst of light came from the fireworks lighting up the sky. Pretty good, huh?
Finally, I want to announce a new "blog series" that I am beginning tomorrow!
It's a series on: "How We Got The Bible?"
The term "Bible" means "book" – so we're talking "THE Book!"
I take it that you have a Bible, right? You purchased your copy from a store, or maybe a friend gave it to you etc. That's great! But, have you ever wondered how all the 66 books came together in the beginning, particularly, how the New Testament came together!?
In the weeks to come we'll learn how the Bible was passed down to us. And, we'll also learn why it is trustworthy and what it means when the Bible says that "All Scripture is given by inspiration of God …" (2 Tim 3:16).
It's been said that you eat an elephant "one bite at a time!" Well, we're going to take a "bite at a time" with this series. So, stay tuned and let me suggest that you even invite your friends to the blog who are searching and who could benefit from knowing why the Bible can be trusted.
Blessings, Greg