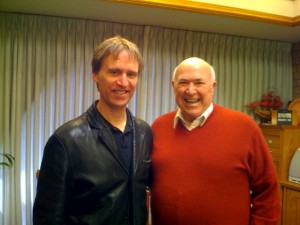 Here's a picture of Pastor Chuck Smith and myself. Can you believe that Pastor Chuck is now 82 years of age? He looks fantastic and he is sharp as can be.
I wrote about Pastor Chuck's influence in my life which you can read about if you are interested under "Influences" in the above tab on the blog.
Well, I'm getting ready for our Marriage conferance that begins tonight with special musical guest Evan Wickham. I'm excited. Would you join Stephanie and I as we pray for a GREAT outpouring in the lives of couples in our church.
 And, I can't wait to see EVERYONE Sunday morning.
Studies in the life of Joseph (Gen. 37-50) have been life changing. If you have been unable to make the last few weeks I highly encourage you to access the messages on Sunday morning from our website. I'm sensing the Lord's favor and blessing on our time together and expect great things that the Lord will continue to do in our lives and church family.
Blessings, Greg